Planning Ahead With Your Promos
8/24/2021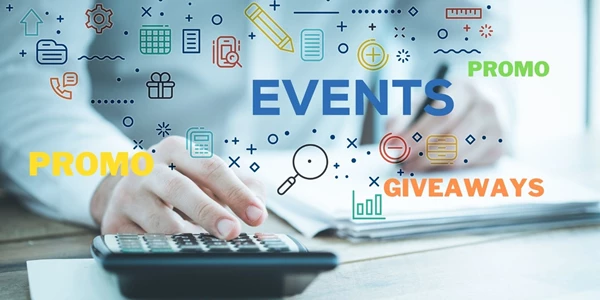 Let's Start A Conversation:
This year has gone by in a flash, and it's time to start thinking about your organization's plans for 2022. Whether you're planning for an upcoming event or looking forward to welcoming back your staff after a lengthy time away, having the right kind of promotional items on hand can go a long way in making a lasting, positive impact on staff and clients alike.
When you're thinking about what you're going to be doing over the next year, make sure those plans include some of the following.
Event Giveaways: Many trade shows and industry expos have moved online on a somewhat permanent basis, with virtual conferences allowing for some key cost savings for many, and allowing folks from around the world to participate without having to travel long distances. But many other such shows are returning to in-person events and taking advantage of face-to-face networking opportunities once again. In either case, it's smart to have promotional giveaway items to give the best possible impression of your brand to show attendees.
For in-person events, giving away a journal with a matching pen is a great way to connect with show guests, who can then use that giveaway throughout the show for note-taking purposes (while still keeping your brand top-of-mind). You should also consider providing a tote bag to attendees, who will appreciate having something to put other literature they pick up at the show in.
If you're participating in a virtual event, consider sending attendees a branded set of headphones that they can then use to listen to conferences and speeches with. A branded power bank that they could use to keep their devices fully charged can also make a great impression, and will be used again and again.
Office Products: The pandemic has forever changed the way many of us conduct business, with a lot of folks shifting to a permanent work-from-home or hybrid schedule. In other cases, offices are slowly starting to welcome back employees to their buildings. In both situations, you can build lasting loyalty among your employees with the right use of promotional products.
If your staff will be spending most of their time working from home for the foreseeable future, consider sending them a care package containing items that will make their workflow go a little bit easier. You can't go wrong with a branded mousepad or USB flash drive, since both are used so frequently in many industries. But you can also go the extra mile with a branded charger or set of headphones to make sure your employees have what they need to stay happy and productive from home.
For those who are planning on welcoming back employees to the office, make it an occasion to remember! Provide a "welcome back" kit to returning staff members that includes things like travel mugs or water bottles, branded lunch totes, company apparel, or even sanitizing products or masks, to show your appreciation and keep them safe in the office environment.
When you're ready to start planning your 2022, give us a call. We can help you make the right impression with the right promos.
Fast. Local. Personal. For over 35 years KKP has been supplying a comprehensive range of high-quality print, design and sign services as well as marketing assistance to Canadian businesses. For expert assistance, attentive service and affordable prices, contact us today.
Back